Tuesday, March 15, 2022
Guest Blog: Poptropica Fashion (Poptropashion?) by Pink Crush ?✨
Hi there, Poptropicans! I would like to make a guest post about Poptropican Fashion. I took some photos and I would like to share them. I took 21 photos( a lot, I know). This post is 10 phots and will be a part 1. The other 11will be a part 2.
The first Poptropican fashion design is called " Punk Rock" This style has a reddish-brownish hair, with a light streak, with added black eyeliner. It has a black leather jacket, with a skull with fire shirt , and a chain with pants and a a belt with spikes. This is one of my favorite outfits to create because of the nice edgy look.
This outift I call "Sophisticated office look" It has a nice high ponytail with white earrings to pair with it. With light blush and red lipgloss, it completes the look with a pink sweater and brown jacket and casual blue pants. It also has a cup of coffee, ( or whatever beverage you prefer) for a long day at the workplace.
This outfit I call " Boho Chic" It shows a carefree style, perfect for late spring or early summer. With a light red/pink lipgloss, it has a flowing long white skirt , with a white top with egyptian pattern along it. This outfit comprises of wavy long hair with streaks and gold earrings and a blue handbag.
This design I call " Weekend Casual" A nice outfit for the weekend at home, it comprises of a sunset tee, and light blue leggings. It has a cute blond high ponytail, with pink blush and diamond earrings, with peach lipgloss.
This outfit is " Tomboy blend" With a nice plaid light jacket, paired with blue pants, silver necklace , sea green wavy hair and cute freckles, this makes the perfect blend between tomboy and girly. DISCLAIMER: The writer of this guest blog, Pink Crush, hopes to not offend anyone of the term "tomboy". Some find it offensive, and wishes not to cause anyone discomfort or offensive views.
This outfit is called " Summer Vibes" ( As an alternative name, I want to call this outfit Watermelon Sugar Vibes, but since there is a song called "Watermelon Sugar High", I don't want to seem like copyright) With a watermelon strap romper, with neon heart earrings, and a cute long braid, this just screams "Summer!"
This outfit is " Mauve Sheriff" The reason is that the shade of purple that is outfit has a a similar shade of purple called "mauve purple" To get this outfit, I had a get it from a passing Poptropican in Poptropicon episode 1. Ride into the wild west, Sheriff!
This costume is called " Vintage Groove" With an '80s and '90s vibe, this costume has a blue cap, poofy hair with white hoop earrings and a necklace, paired with white leggings and a (very 1980) top.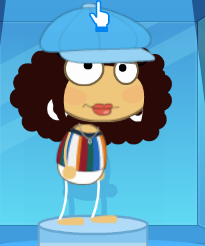 I just wanted to show this outfit, it called " Pink Crush" and I made this on Valentine's day. It has strawberry pink hair, and neon heart earrings. As you can see, it consist of a heart belt, heart top, pink wings, a necklace, and a cupid's bow.
This is another of my favorite outfits. I call it " New York Chic" Comprised of a black buttoned jacket, it has a black cami top, with white and black dots for the skirt. It also has gold earrings, paired with fire red hair and a black cap. It also has a belt and a handbag purse to tie the whole outfit together.
That is part 1, let me know what you think Poptropicans !
- Pink Crush