Friday, February 11, 2022
Shining the spotlight on some Pop-tastic fan art! ✨
Happy Friday, everyone! There's tons of fun events happening in the next couple of days – the Superbowl and Valentine's Day are just around the corner, and the Winter Olympics are in full swing! With everything else going on, let's take a some time to chill out fawn over some fan art! Shall we pop right in? 👀
@cnp_1022 shared a hilarious take on the Baron's Crusade quest. After fighting hoards of skeleton guards, the player is praised for their efforts and the Baron offers an open-invite to future missions. @cnp_1022's avatar doesn't take too kindly to being called a "lad," especially when they did all the heaving lifting against the skeleton squad. Can you blame them?
@papurikuu recently posted a redraw of their Popsona! They captured Mighty Coyote in all their glory, right down to the glowing net, tussled hair, and uber relatable grimace. Great piece all around, MC!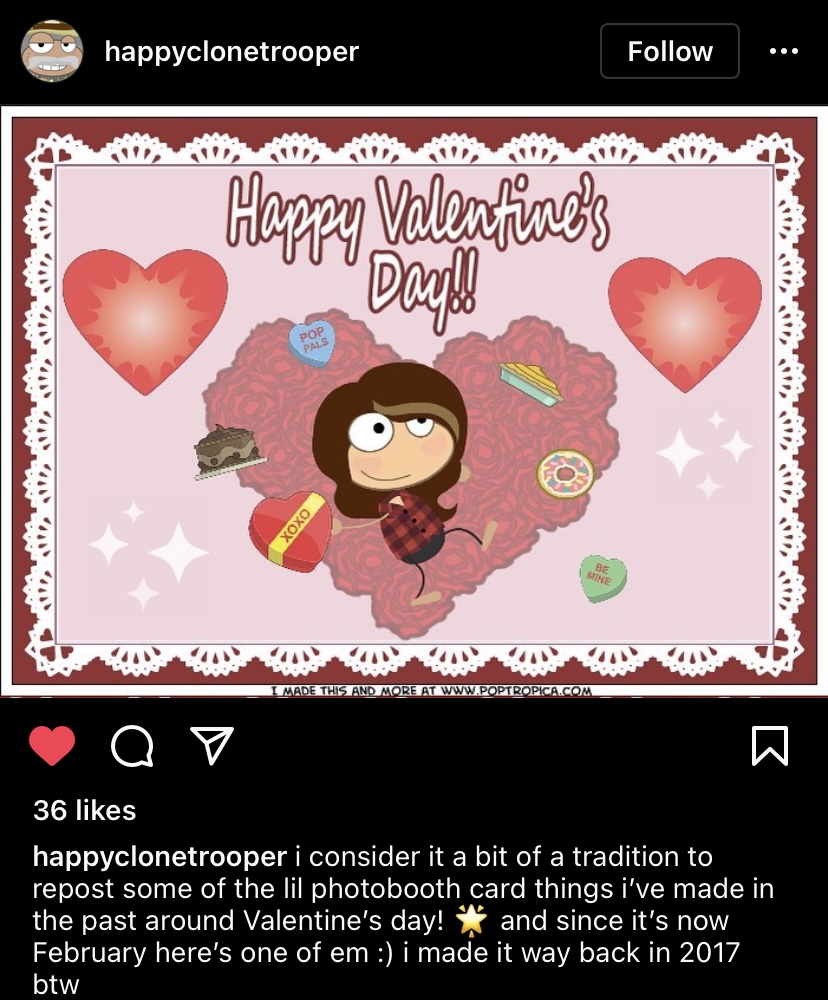 @happyclonetrooper's celebrating Valentine's Day with a Maroon Ring themed card! MR's perched on a heart shaped patch of roses, surrounded with cute treats and even some iconic sweetheart candies with the words "Pop Pals" on full display! The whole thing is undeniably sweet! 💖
@nova_opteryx gave players a fun throwback to Monster Carnival! The looming animatronic raven inside the Ringmaster's tent is a memorable scene and the artist absolutely killed it in their redraw!! Can you imagine this IRL? It'd be TERRIFYING.
@goldsberrie hit a little too close to home with their funny comic that most of us can probably relate to. When asked if they're playing Poptropica, the artist's impulsive side takes on a new form – @goldsberrie makes a great effort to fend off the impulse to share their Pop fanart and knowledge! Yep, a bunch of us have been there before… Right? Either way, this comic gave us quite the chuckle. Let that impulse out!! 😈
Last up, over on Twitter, @XMzhier shared a fun art-style practice, featuring a set of Pop characters! They've included everyone from Dr. Hare, Black Widow, Zeus, Hercules, and Binary Bard – it's an awesome compilation. You've got these characters down perfectly!
Once again, the Pop community has created some awesome art! Let's show all the artists some love for their talents! If you want your Pop art showcased on the blog, send it to us through the submissions page or tag us on Instagram (@poptropicacreators) and use #poptropicafanart to get our attention. Keep up the spectacular work, Poptropicans! 🤩👏👏