Monday, January 10, 2022
Store Update: Clubhouse gear and frosty flannels for this time of year! 🖼🛍
This week's store updates have arrived in the shop! There's a bunch of clubhouse gear to report, alongside a fresh flannel costume. But before we dive in, shoutout to Friendly Feather for submitting a relatable Monday meme that gave us a good laugh. Not yet, Amelia. Thanks for sharing, FF! 🤩
Now, onto the store update!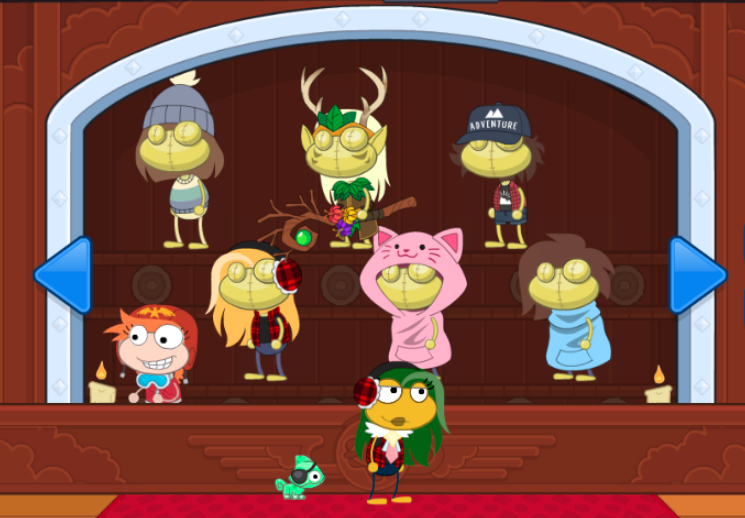 This week's shop drop is putting the Frosty Babe costume (250 credits) front and center. The Frosty Babe outfit continues the winter weather theme around Poptropica. Add the costume's signature red plaid flannel and matching earmuffs for a cute and cozy look! We've already seen a ton of you wearing the new costume on the Airship, sweet styles all around sailors!
In the clubhouse only store, you can find 5 brand new clubhouse decorations, as well as 2 previously released items from Pop's past.
For the new gear, all players can add the Pinecone Garland (100 credits), Hanging Snowflake (75 credits), Scented Candle (75 credits), and Tea Set (200 credits) to their clubhouses! Members can also add the Honeycomb Shelf (150 credits) wall decoration, complete with plants, mugs, and other knick knacks!
As for the returning décor, members have the option of sprucing up their clubhouses with the Pop Star Poster (75 credits) and Stained Glass Window (250 credits)!
The Baron's also hosting her own pop up shop aboard the Airship! Don't miss your chance to score the free Rainbow Puppy costume and the Dino Head, Potted Cactus, and the Cards and Candles decorations in the Cabin of Curiosities! The three clubhouse items are available to all players for 75 credits each. More bang for your buck!
Don't miss the Baron's bounty this month! Word on the (Main)street is that the Baron's departing Home Island tomorrow. Stop by the Airship before the sky pirate's embarks on the next adventure!
As a reminder, January's costume contest is happening NOW! Submit your original costume designs by next Monday, January 17th at 8pm PST (5pm EST / 6pm CST / 7pm MST / for all other time zones, please use a time zone converter). For more info, check out this month's contest post!
That's all for today, Poptropicans. Don't forget to stop by Goofball Island tomorrow for the debut of the new Blitz on the Fritz quest! You'll get the chance to befriend Bee Bot and the Hive News crew, all while saving the day!
Have a marvelous Monday! 👋