Monday, November 1, 2021
Adventure Outfitters introduces Atlantis attire and sweater weather gear! 🌊🛍🍂
What's crack-a-lackin', Poptropicans? Did you have a happy Halloween! With the end of spooky season, November is upon us and the holidays aren't far behind.
If you missed the previous island update, Mission Atlantis will be making its debut on Haxe very soon! To celebrate the upcoming rerelease of Mission Atlantis, Amelia's added some sea surprises to Adventure Outfitters' store inventory! Thanks for the new Atlantis items, Amelia!
Stay tuned for more news and updates surrounding the island's return! But until then, let's dive right in. 
The store's latest Mission Atlantis additions include the Scuba Adventure (250 credits) and Puffer Fish (200 credits) costumes! These aquatic outfits are available to all players! Be sure to try on the diving gear and get ready to sink or swim! 
Adventure Outfitters' recent update also features several fishy followers, including the Fish Out of Water and Dolphin followers! Just like many of this week's Mission Atlantis items, these fish friends are available to all players for 100 credits each! Alternatively, If you're in the mood for something cute and cuddly, try out the Cuttlefish Head Rider for 100 credits! The colorful, rare species can be found during your submarine search and is the ultimate accessory to add to your oceanic outfits.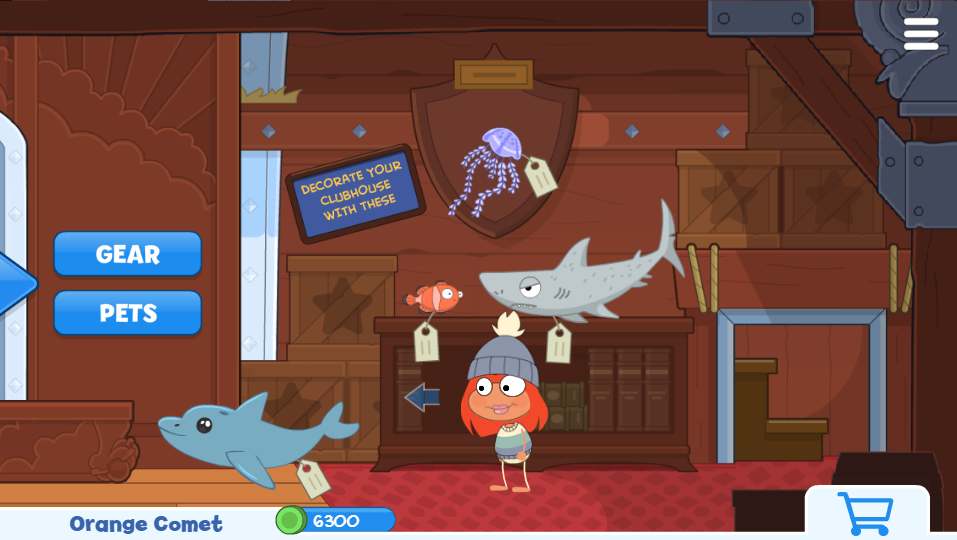 But the Mission Atlantis gear doesn't stop there! You can deck out your clubhouse with a few sea friends. In this case, these fish are friends, not food. Style your cottage with the Jellyfish, Grey Shark, and Clownfish decorations! All players can purchase the clubhouse creatures for 100 credits each – talk about a catch of the day!
Or if you're hoping to dress your Popsona to fit fall's sweater weather, Amelia's already thought of that too! Adventure Outfitters' fab fall fashion is coming into season!
All players can snag the new Snug Vibes and Pumpkin Smash costumes for 250 credits each! Snug Vibes gives your Popsona a knitted sweater and cozy beanie, while the Pumpkin Smash costume features a trendy combo of a wide-brimmed hat, oversized cardigan, scarf, and pumpkin spice coffee accessory. Nothing's better than cute and comfy!
Last but not least, this month's round of member gifts include some outstanding origami items! As usual, gifts are awarded to members at the beginning of every month. You can find November's gifts in your inventory now! Customize your Popsona with the new Paper Prowler animal mask, Purr Paper Pal follower, and Pup Paper Pal follower!
That a wrap for this week's inventory update, folks! Which new store item are you most excited to see? How will you add your own personal flair to the new gear? Share your first impressions with other players in the comments below! 👇👇