Thursday, September 30, 2021
Amelia's Eye-Popping Mini Quest Guide and Playthrough! 🦄
Have you completed Amelia's mini quest yet? It hasn't been long since Amelia recruited us to help her find her missing cargo! Now that the mini quest has been available for a few weeks, hopefully you've already helped Amelia retrieve her precious cargo! If you haven't, what are you waiting for?! Check out our Youtube channel to get the full experience and watch a playthrough of Amelia's mini quest!
Amelia desperately needs your help! After being invited to tea in Amelia's clubhouse, she reveals a piece of important cargo has gone missing somewhere over Survival Island! Here's where you come in. Amelia asks you to travel to Survival Island to retrieve her cargo, but she's adamant about keeping its contents a secret.
Your efforts won't go unnoticed though – Amelia offers you credits and a surprise reward for your trouble. It's up to you to accept her mini quest and set off in search of the misplaced freight.
After touching down in Survival Island, you can find Amelia's missing cargo by heading either left or right. Whichever direction you choose, you'll come across it eventually! Trek through the snow and keep an eye out for the lost items! Finally, you locate the cargo! But things definitely take a surprising turn… Amelia's precious, secret cargo is filled to the brim with unicorn plushies of all things! 🦄
Now, with the cargo in tow, head back to Amelia's clubhouse on Home Island to return the unicorn treasure. As soon as you walk through the door, Amelia's over the moon! You found it! For your reward, Amelia gifts you 1000 credits and your own unicorn stuffed animal for your clubhouse! You can't help but bring up the cargo's surprising contents and ask her about her collection. Evidently, she LOVES the magical creatures!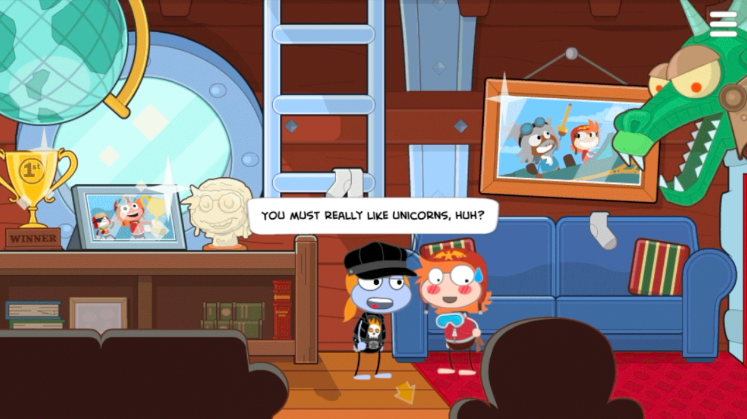 In a unicorn-fueled frenzy, Amelia reveals the bedroom she hid during your first visit. Her room is absolutely covered in keepsakes and plushies of pointy-horned creatures. Unicorns, rainbows, and sparkles decorate the room from floor to ceiling! It's a magical sight to behold!
While you're here, you can also take a look around the rest of her clubhouse. There's plenty to see and even more to learn about Amelia! How many secrets does she have?!
Look closely! Amelia owns Home Island?! She even has photos with Xavier, a very angry looking Baron, and a group photo with two mystery girls in her bedroom. Is anyone else's imagination running a mile a minute?  
What are your theories explaining Amelia's mysteries? What could be the backstories behind the photos? Who are the girls in the last picture? What other adventures has Amelia had around Poptropica? Drop your theories in the comments below and see what other Poptropicans think about all the new info, you might be closer than you think! 🧐